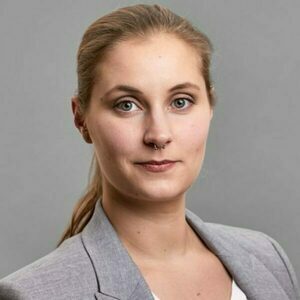 Greta Jasser
Special guest
Greta Jasser is a PhD student at the Center for the Study of Democracy, and a Georg-Christoph-Lichtenberg-Fellow at the Institute for Political Science at Leuphana University of Lüneburg. Her PhD research analyses US far-right online networks on social media, alt-tech platforms and websites. She is particularly interested in young movements like the alt-right, their ideological syncretism and the cross-fertilization with misogynist groups and male supremacism.
She holds a MSc in Political Theory from the London School of Economics, where she focused her research on the state theories of the Frankfurt School. She received a BA in Government and Public Policy from the University of Passau, where she explored the adaptation of Antonio Gramsci's work within the European New Right.
Greta Jasser has been a guest on 1 episode.
November 10th, 2021 | Season 2 | 23 mins 26 secs

extremism, history, populism, right-wing

Guests Greta Jasser and Ed Pertwee join Right Rising to discuss alt-tech - the digital infrastructure of the far-right. Greta and Ed break down the particular way far-right actors avoid deplatforming on alt-tech platforms and circulate racist, sexist, and xenophobic content. What, we ask, can be done about these alt-tech platforms?