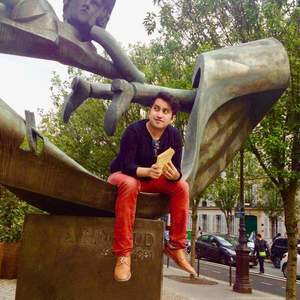 Louie Dean Valencia-García
Special guest
Dr. Louie Dean Valencia-García is an Assistant Professor of Digital History at Texas State University. He is a Senior Fellow and Head of the History Research Unit for the Centre for the Analysis of the Radical Right. His books include Antiauthoritarian Youth Culture in Francoist Spain and Far-Right Revisionism and the End of History. You can hear more from Louie's on NPR, Mic, VICE, Yahoo News, Al-Jazeera's The Stream and Newshour, The Christian Science Monitor, Technology Tell, The Comics Bulletin, San Antonio Express News, IstoÉ, MSNBC, El Periódico, The New York Times, Crave, National Catholic Reporter, AintItCool, The Comics Alternative, and New York 1, amongst others.
Louie Dean Valencia-García has been a guest on 1 episode.
January 5th, 2021 | Season 1 | 21 mins 54 secs

extremism, history, populism, right-wing

Guest Louie Dean Valencia-García joins Right Rising to discuss how far right movements create counter-narratives to accepted understandings of history. Walking us through a broad history of the radical right, Louie delves into how these alternative histories circulate - and how historians' try to combat their spread.