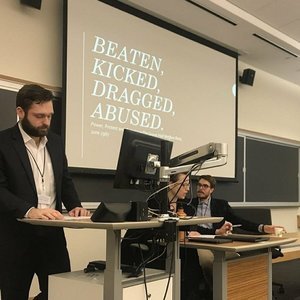 Simon Purdue
Special guest
Simon Purdue is a PhD candidate in World History at Northeastern University. His research focuses on the construction of gender on the far-right and the role of women in extreme-right paramilitaries in the USA, UK, and South Africa. He also specialises in the interconnected and global nature of far-right politics and culture, framing white supremacy as a world-historical issue.
Simon Purdue has been a guest on 1 episode.
November 24th, 2020 | Season 1 | 23 mins

extremism, history, populism, right-wing

Guest Simon Purdue joins Right Rising to break down why gender is so important to the extreme right. He walks us through some of the most consistent historical narratives around womanhood and gender in the Western extreme right and how these narratives have evolved into today's women of the far-right.